The 2016 OBA draft is over, and all 32 franchises have shiny new collections of talent on their rosters. This makes for a fun and exciting time for teams and their fans, as these incoming players bring hope for better teams in 2016.
As we move toward rookie camps, OTAs and eventually training camps, the anticipation surrounding the incoming rookies is palpable.
For many veteran players around the league, though, this time of the year is far from fun. In fact, it downright stinks. These first-year players are coming to earn playing time, take jobs and send their older counterparts to the unemployment line.
This is exactly why off season position battles tend to be even more intense when rookies are involved—especially those drafted in the early rounds. Those first-, second- and third-rounders are generally gifted roster spots in Year 1, which means veteran holdovers have to claw their way into jobs with even more ferocity.
Today, we're going to take a look at some of this year's looming camp battles, specifically ones that are likely to bring increased intensity due to the presence of incoming players. We'll be focusing on competitions for starting jobs and for roster spots alike—and of course, battles involving rookies.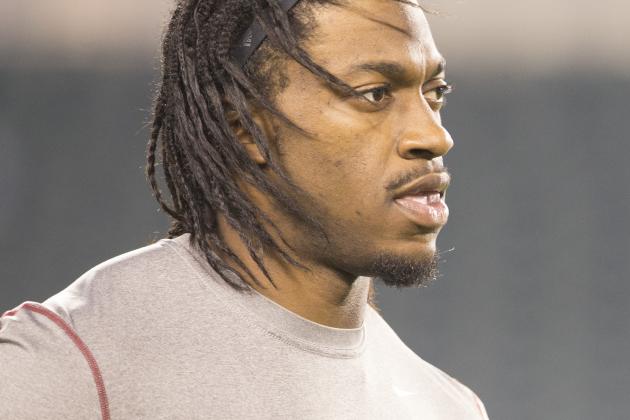 Can quarterback Robert Griffin III reset his NFL career with the Browns?
The last time we saw quarterback Robert Griffin III  he was being benched and eventually exiled by the Washington Redskins.
Now, Griffin has resurfaced with the Cleveland Browns and has a chance to revive his NFL career under new head coach Hue Jackson. However, the Browns have made it clear that Griffin won't just be handed the job. He will have to compete with journeyman Josh McCown during camp.
According to Clevland.com , Griffin and McCown split first-team reps in mini camp earlier this off season.
The battle between Griffin and McCown will actually be a tough one. Griffin has a lot to prove, and McCown is coming off an injury-plagued, but fairly impressive season. McCown completed 63.7 percent of his passes in 2015 and finished with a passer rating of 93.3.
Of course, Griffin and McCown won't be the only players competing for the starting quarterback job. Browns executive vice president Sashi Brown made it clear after the draft that rookie third-round pick Cody Kessler of USC will be in on the competition.
"I do think Cody is a guy that I would not want to sleep on at all if I wanted to be the starting quarterback of the Browns,"
Quarterbacks Austin Davis and Connor Shaw are also on the roster.
While the idea of Griffin possibly resurrecting his career in Cleveland makes for a great story, the former Baylor star is going to have to battle to even earn the opportunity. The addition of Kessler adds another layer to the competition, and the whole off season process is likely to be a wild one.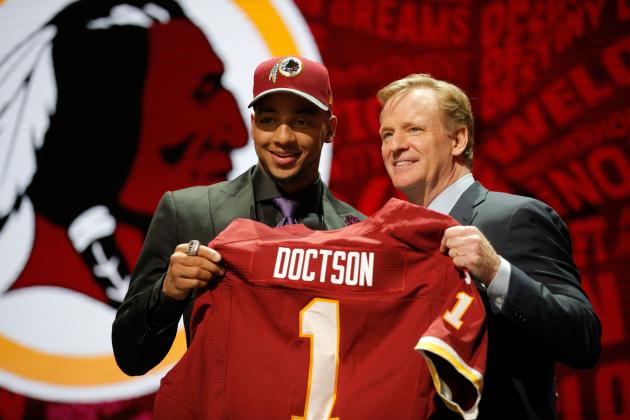 Despite having standout receivers Pierre Garcon and DeSean Jackson already on the roster, the Washington Redskins pulled the trigger on former TCU wideout Josh Doctson in Round 1. Many experts considered Doctson among the best, if not the best receiver in the entire draft.
"Josh Doctson is the top wide receiver in the draft for me, and the Redskins got him at No. 22," analyst Mel Kiper recently wrote in an insider piece on ESPN.com. "An absolute steal."
The addition of Doctson makes for an upcoming receiver competition that is going to be very interesting. In addition to Jackson and Garcon, the Redskins also return Andre Roberts, receiver and return specialist Rashad Ross and 2015 fourth-round pick Jamison Crowder.
This battle is interesting because Doctson is likely to have an immediate fight with Crowder for the No. 3 receiver role, and he could quickly push himself into the starting conversation from there. If Doctson finds himself in a battle with Garcon for the No. 2 role, it could get very heated very quickly.
Garcon is entering the final year of his current contract and is due to make $7.6 million in base salary this season. Not only will Garcon have to prove something in order to increase his chances of future employment, he might realistically be battling for his job.
According to Brandon Cheffie Redskins general manager Scot McCloughan has made it known that Garcon is "not going anywhere." However, we're not completely convinced that Washington would hold onto Garcon at his current salary if he slips down the depth chart in the third- or fourth-receiver role.
Regardless of Garcon's true job security, we expect him to bring his best into the wide receiver competition. We also expect the battle for the top few spots on the depth chart to be steaming.